02.08.2023
Naming ceremony of the 8th from the series of twelve 32,150 tonne bulk carrier m/v Slavyanka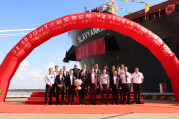 On August 2, 2023, the day that marks the 120th anniversary since the outbreak of the Ilinden-Preobrazhenie Uprising, the flag of the 8th from the series of twelve 32.150 tonne bulk carrier, contracted by Navigation Maritime Bulgare, has been raised at the Chinese shipyard Jiangsu Yangzi Xinfu Shipbuilding Co. Ltd.
The Ilinden–Preobrazhenie Uprising, or simply the Ilinden Uprising of August–October 1903, began on the night of August 2 and was organized revolt against the Ottoman Empire.
120 years ago, the Bulgarian population from Slavyanka mountain region took the most active part in the uprising.
Today our colleague from Chartering Department- Mrs. Katya Mutafova is the godmother to the 32,150 tonne bulk carrier m/v Slavyanka.
Captain Ivan Stefanov Todorov and engineer Georgi Kolev are her first master and chief engineer accordingly.
This vessel is the 4th one in Navibulgar's history named after Slavyanka mountain.
The first Slavyanka was a 11 047 tdw Liberty-class ore-carrier built in New Orleans, USA, in 1945. She was serving in Navibulgar fleet from 1967 to 1972.
The second Slavyanka was a 24 574 tdw bulk carrier built in Varna in 1978. She was serving in Navibulgar fleet until 2011.
The third Slavyanka was 32 252 tdw bulk carrier built in China in 2012. She was a part of the fleet until 2020.
Press center of Navibulgar