03.11.2021
Navibulgar ordered a new series of four 45 500t bulk carriers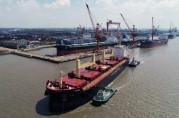 Navigation Maritime Bulgare ordered the building of four more 45 500t bulk carriers in the Chinese Shipyard Jiangsu New Yangzi Shipbuilding Co.
Six vessels of this kind have already been delivered by the shipyard and named after Bulgarian peaks and mountains (Plana, Midjur, Buzludja, Malyovitsa, Milin Kamak and Okolchitsa).
Their excellent performance motivated Navibulgar's management to extend this fleet to ten ships.
The updated version of this project will meet the latest environmental protection standards such as the carbon pollution prevention (EEDI Phase 3 - Energy Efficiency Design Index), NOx Tier III for the main engine and the diesel generators.
The deliveries are scheduled for the first half of 2024.
The vessels are to be named: Bulgaria, Rodina, Tsarevets and Trapezitsa.
Bulgaria and Rodina are to be fifth vessels with that name, and Tsarevets and Trapezitsa- second.
Press center of Navibulgar