24.09.2021
Hoisting the flag of the second from the series 32,150 tonne bulk carrier m/v "Bogdan", ordered by Navigation Maritime Bulgare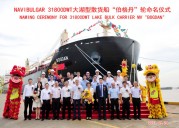 Today, September 24 2021, the flag of the second from the series 32.150 tonne bulk carrier m/v "Bogdan" (ІМО 9905710), has been raised at the Chinese shipyard Jiangsu Yangzijiang Shipbuilding Co and her godmother is Mrs. Chen Tao, vice-president of Bank of China, WUXI Branch.
This new Navibulgar's acquisition has been financed by Bank of China.
This lake fitted bulk carrier is the third one in Navibulgar's history with that name.
Her first master is capt. Martin Ilkov Ivanov and her first chief engineer is Mr. Todor Kolev Ivanov.
The pioneer ship from the series - m/v "Kom" is operating since August 20, 2021 and has recently arrived at the Chinese port of Caofeidian to load cargoes for the Great Lakes in North America.
Press center of Navibulgar