17.08.2020
Hoisting the flag of the sixth 45,500 dwt vessel from Bluetech 45 project, ordered by Navigation Maritime Bulgare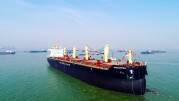 The renewal plan of Navibulgar fleet with modern 45,500-ton bulk carriers under the Bluetech 45 project has been successfully completed.
Today the flag of the sixth from the series 45.500 tonne bulk carrier m/v "Okolchitsa" (ІМО 9841653), has been hoisted at the Chinese shipyard Jiangsu Yangzijiang Shipbuilding Co., Ltd.
Like her sister- m/v Milin Kamak (the fifth in the series), m/v Okolchitsa is also equipped with a scrubber (exhaust gas cleaning system to minimize the SOX emissions).
In addition she is fitted with grabs, which increase her chances to be operated in unequipped ports.
The godmother of the ship is Mrs. Cai Ye Fei.
The handover protocol of the ship has been signed by Mr. Dimitar Tonev - New building and dry dock Manager, who is in charge of the supervision of the design and construction of the new building projects.
We would like to thank our technical team for the hard work and cooperation with the classification organization and the designers of the next Navibulgar project- Odely 31.800 DWT Lake fitted bulk carriers.
The commencement of the construction process is planned for the end of the next month .
The names of the vessels, that will be delivered in 2021 and 2022, have been already chosen.
Okolchitsa is the second ship in the history of Navibulgar with this name.
The first one was a 25,000-tonne bulk carrier that was a part of Navibulgar fleet from 1982 until 2012.
Press Center of Navigation Maritime Bulgare