25.09.2019
Hoisting the flag of the second 45,500 dwt vessel, ordered by Navibulgar in Chinese Shipyard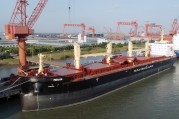 On 25th September 2019 in the Chinese Shipyard Jiangsu New Yangzi Shipbuilding Co. Ltd. the flag of the second 45,500 dwt bulk carrier, ordered by Navibulgar was hoisted. The godmother Mrs. Wang Xiaoying - Deputy General Director, Operational Department of Export Import Bank of China named the newly built vessel "Midjur" and wished her happy sailing.
The naming ceremony in the Chinese Shipyard is part of the celebration events of the 70th anniversary of the establishment of diplomatic relations between China and Bulgaria.
Officials included the Deputy Minister of Transport, Information Technolgy and Communications Mr. Velik Zanchev, Mr. Grigor Porojanov - Ambassador Extraordinary and Plenipotentiary of the Republic of Bulgaria to the People's Republic of China, Mr. Kiril Domuschiev – Chairman of Supervisory Board of Navibulgar, Mr. Georgi Domuschiev – Member of Supervisory Board of Navibulgar, Capt. Alexander Kalchev - CEO of Navibulgar.
First Master of the vessel is Capt. Mariyan Yotov, and first chief engineer – eng. Cvetan Canov.
Midjur is the second Bluetech 45 design vessel after mv Plana. The third ship in the project will be named Buzludja. Her keel was laid on July 29 this year - literally the day before the flag of the Plana was raised in the same shipyard and she was launched on 23 September 2019.
Navibilgar will replenish its fleet with a total of six vessels from the Bluetech 45 project. The bulkers' tradition of bearing the names of Bulgarian mountains and mountain peaks will be respected and followed.
The present Midjur is the third ship of this name in the history of Navibulgar. The first had a deadweight of 15 270 tons and was built in Belgium in 1957. She was in employment until 1980. The second had a deadweight of 21 547 tons and was built in Varna in 1992. It is interesting that the second Midjur was from the old Plana front ship project. She was in operation till 2016.

Press Center of Navigation Maritime Bulgare