01.08.2019
Flag of the first 45,500 dwt vessel, ordered by Navibulgar in Chinese Shipyard was hoisted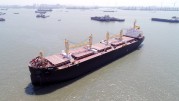 On 30th July 2019 in the Chinese Shipyard Jiangsu New Yangzi Shipbuilding Co. Ltd. Was hoisted the flag of the first 45,500 dwt bulk carrier, ordered by Navibulgar. The godmother Mrs. Zhang Yingchun - Deputy General Manager, Operational Department of Export Import Bank of China gave to the newly built vessel the name Plana and wished her happy sailing. The party was joined by the CEO of Navibulgar Capt. Alexander Kalchev and other Company managers. First Master of the vessel is Capt. Gancho Hristov, and first chief engineer – eng. Dimitar Ganchev.
Mv Plana is the first vessel from the project Bluetech 45, development of the successful project Bluetech 42, based on the experience from the employment of three vessels from Bluetech 42 type. The increased load capacity is joined with modernized main engine 5G50ME-C9.5 with max. power of 6800 KW. It is produced in Republic of Korea by Doosan under license of B&W MAN and is characterized with the highest eco standard. It secured speed of 14 knots at vessel's summer draft of 10.80 m.
Mv Plana is ice classed and have 4 cranes with SWL 30 mt each. Vessel has modern water ballast treatment system according to the international conventions. The crew is secured with very good conditions for work and rest.
Next, second vessel from Bluetech 45 project, ordered by Navibulgar, is already on building. She will be named Midjur. The third vessel from the series will be named Buzludzha and the keel was laid on 29th July 2019 in the same shipbuilding yard. Navibulgar is planning total 6 vessels from this Bluetech 45 project.
Mv Plana is the third vessel with that name in the history of Navibulgar. The first one was built 1967 in Japan and had dwt 9581 mt. Was in employment till 1987. The second one was built 1991 in Varna. Was in employment till 2016.