07.07.2017
Another 42 300-ton vessel of Navigation Maritime Bulgare raised its flag and set sail on its first voyage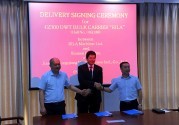 The cost of the newly built vessel is BGN 34.5 million
From China comes yet another confirmation that Navigation Maritime Bulgare is quickly expanding its fleet. On July 6, 2017, the flag of the newly built 42 300-ton bulk carrier "RILA" was raised in the Chinese shipyard Jiangsu Hongqiang Marine Heavy Industry, Qidong (not far from Shanghai). The ceremony was attended by the Executive Director of Navigation Maritime Bulgare Alexander Kalchev MFG and the Technical Director Eng. Daniel Harizanov. The first Master of the newly build vessel is Gancho Hristov MFG, and the first Chief Engineer is Eng. Kamen Vasilev. The ship will visit several ports of loading in China and the ports of unloading are in the Mediterranean Sea.
"RILA" is the next of the series of high-efficiency and modern vessels owned by the oldest and largest Bulgarian shipping company which is celebrating its 125th anniversary this year.
The gradual renewal of Navigation Maritime Bulgare's fleet with these competitive vessels allows the company to strengthen its position on the international market and to expand its activity.
Bulk carrier "RILA" is the fourth ship with that name in the history of Navigation Maritime Bulgare. Thus, the Company continues the tradition of naming the ships and newly built bulkers are named after Bulgarian mountains and mountain peaks. The name of the next 42 300-ton bulker currently under construction in China, is already known – it is "ROZHEN". It will be delivered to Navigation Maritime Bulgare by the end of the year.
In the photo: The Executive Director of Navigation Maritime Bulgare Alexander Kalchev MFG is signing the papers with the Chinese partners for the delivery of "RILA".
Press Office of Navigation Maritime Bulgare