09.06.2017
New marine tugboat for the Auxiliary fleet of Navigation Maritime Bulgare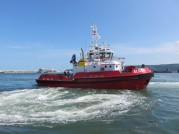 On 2th of June 2017, in Port of Varna took place the naming ceremony of the tugboat "Alcor"- newly built for Navigation Maritime Bulgare. This is the 20 th tugboat in the history of the Company and the 2nd marine tugboat in the Bulgarian Shipbuilding.
The Godmother of the boat is Kalina Todorova. The tugboat was built in the Shipbuilding and Shiprepair yard MTG Delfin AD-Varna (building No 1401 "40T Tugboat").
The tug has LOA of 27,6m and displacement of 426t. She is equipped with two Caterpillar engines of 1800 h.p. at 1600 rpm each, as well as two ASD thrusters, which allows her to manoeuvre in conditions that would be challenging for other tugboats.
Alcor is designed to serve in both ports and offshore. She has been constructed under the supervision of Classification Society Bureau Veritas - Varna Branch and she will be flying the Bulgarian flag.
The intention of NMB Management is to build two more sister- tugboats in the same shipyard, to be delivered in 2018. According to capt. Aleksandar Kalchev - Executive Director of Navigation Maritime Bulgare, this is the only way to manoeuvres in bad weather conditions (wind above 10m/s) for the ships in the ports and shipyards of Varna and Burgas to be allowed by the harbor masters.
Press-office of Navigation Maritime Bulgare AD