19.12.2016
A new NAVIBULGAR 42300 t ship sailed away for her first voyage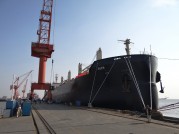 On 18th December 2016 the new 42300 t bulk carrier "RUEN" left the Chinese shipyard Jiangsu Hongqiang Marine Heavy Industry, Qidong (not far from Shanghai), for her maiden voyage. Few days before the departure, the naming ceremony has taken place in the shipyard, attended by NAVIBULGAR Executive Director Aleksander Kalchev MFG and the Technical Director Mr. Daniel Harizanov.
The Godmother of mv"RUEN" is Mrs. Kremena Angelova - the head of NAVIBULGAR's legal department.
First master of the newly built ship is captain Nikolay Nikolov, her Chief engineer is Mr. Kamen Vasilev.
The ship is fixed to load her first cargo in Pohang, South Korea bound for the Mediterranean.
"RUEN" is not only the newest vessel, but also the one with the highest efficiency, owned by the 125 years old Bulgarian shipping company. She is a pioneer of series of 6 vessels based on entirely new ergonomic and ecological design.
In November the second bulker of this type, named "RILA", has been launched in the same Chinese shipyard. It is expected the ship to be delivered around the middle of the next year. Till the end of 2017 the third vessel– m/v "ROJEN" is expected to join the fleet of the Company too. In this way NAVIBULGAR is keeping its naming tradition – all newly joining bulk carriers to be named on Bulgarian mountains and mountain peaks.
The first vessel "RUEN" was received by NAVIBULGAR on 15th of March 1967. She was a 14'030 DWT ore carrier, built in Inoshima, Japan. She also was the first from a series of sisters, built in Japan. First captain was Nikolay Mavrodiev, and first Chief engineer – Evstati Vasilev. On April the 5th, 1967 "RUEN" was the first Bulgarian ship flying its flag at the fifth continent – Australia, Port of Fremantle. On 29th of May 2009 the vessel has been retired, after 42 years of operation.
Navibulgar News