25.07.2016
Passengers on board the ferry vessel "Geroite na Sevastopol" can now access Internet at any time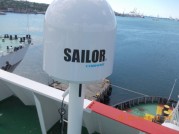 A modern complete communication solution including a satellite terminal Inmarsat Sailor Fleet Broadband 500, multi-functional device for on-vessel networking & communications IP Signature 4 and wireless Wi Fi network are already in operation on board. The communication system provides a constant access to the Internet and a high quality satellite voice connection for use by the passengers. It operates regardless of the vessel`s position and ensures stability of the signal that is not affected by harsh weather conditions. Passengers on board may remain connected to the Internet, e-mail services, Facebook, Viber and other advanced applications via their own smartphones, tablets or laptops by the latest technology for personal communications "BYOD - Bring Your Own Device".
Inmarsat Sailor Fleet Broadband is a global satellite system based on fourth generation geostationary satellites I-4.
The communication box IP Signature 4 ensures advanced network functionality and has unique dual board design for reliability and failover.
The delivery and installation of the communication system on board the ferry vessel "Geroite na Sevastopol" was carried out by NBS Maritime, a leading service provider of mobile satellite communications in cooperation with the specialists from the Information Technology and Communication Department of Navigation Maritime Bulgare.