24.06.2015
Navigation Maritime Bulgare acquires a new vessel, m/v Persenk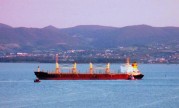 The m/v Persenk transfer of flag ceremony was held on June 22, 2015 in Nantong, China. The first captain of the ship is Stefan Houbenov and the first chief engineer - Dimtcho Chipov. During her first voyage with Bulgarian crew m/v Persenk will call three Chinese loading ports and then will head to the Mediterranean region.
The ship was built in October 2010 at the Chengxi Shipyard Jiangyin, China (IMO: 9578995) and until now was bare-boat chartered by the large shipping company Cosco Bulk Carrier. The length of the ship is 176.2 m, breadth - 26 m, and capacity (Summer DWT) - 29450.1 tons. The main engine output of 8676 hp allows the vessel to sail at above 14 knots. The Classification Society is Lloyd's Register of Shipping and the flag state is Malta.
With this ship of the fleet Navigation Maritime Bulgare continues its renewal programme. On April 1, 2015 in Shanghai, China NMB took over of the sistership m/v Belmeken. Last year the company signed a contract with the Chinese shipyard for the construction of four bulkcarriers (plus two optional) with a deadweight of 42,300 tons. The construction of the fifth and sixth vessel of the series was also confirmed.
The newly acquired m/v Persenk is the third in Navibulgar's history with that name.
The first Bulgarian sea-going merchant ship named "Persenk"
On August 20-th, 1965 in Kristiansand, Norway, Captain George Dulgerov and Chief Engineer Bogdan Prodanov took delivery on behalf of DTP "Texim" of the orecarrier "Akamar" (later in the fleet of Navigation Maritime Bulgare the ship was sailing under the name "Persenk"). The ship of capacity 14,650 tons was built in 1957 in La Seine, France. She was sold by NMB to a Greek company on November 7, 1980.
The second Bulgarian sea-going merchant ship named "Persenk"
On March 17, 1998 Varna Shipyard launched the fourth 13,900-ton bulkcarrier (hull number 714) intended for Navigation Maritime Bulgare. The ship was given the name "Persenk" (IMO: 9132519). The delivery time was decreased by a month due to the chartering company "Cargill" request to get the vessel until the end of May 1998. The second m/v Persenk was sold by NMB to a Turkish company on August 12, 2014.