02.04.2015
The Belmeken is the latest vessel added to the NAVIBULGAR fleet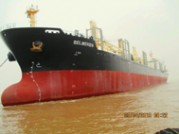 On 1 April 2015 the flag of the motor vessel Belmeken was hoisted in Shanghai - that is the latest vessel added to the fleet of Navigation Maritime Bulgare. Nikolai Nikolov shall be the first Master of the vessel and Kamen Vassilev - her Chief engineer. In the course of her first voyage manned with Bulgarian crew Belmeken is to call at ports in the Far East and the Mediterranean.
The vessel was built in April 2010 in the Chengxi Shipyard Jiangyin, China under the name Fu An Hai (IMO:9576014) and was bareboat chartered till now by the large shipping company Cosco Bulk Carrier. The vessel length is 176 m., her width is 26 m. and carrying capacity (Summer DWT) - 29 450.1 t. Her main engine power is 8676 hp allowing the vessel to raise more than 14 knots. Lloyd's Shipping Register is the classiffication society supervising the Belmeken.
By acquiring the Belmeken Navibulgar is standing the course of its fleet renewal. Currently experts of the Company are preparing the purchase of another vessel with similar features to the Belmeken. Last year the Company signed a contract with a Chinese shipyard for the construction of six bulk carriers of 42 300 dwt.
The present vessel Belmeken is the second one of that name listed in the Navibulgar history.
Reference about the first vesesel named Belmeken
9th June 1973 - The 23 738 t bulk carrier Belmeken (BELMEKEN - IMO 7321178) built in Varna hoisted her flag.That was the third vessel of a 23 500 t. series (p.N105), built for Navigation Maritime Bulgare in the G. Dimitrov Shipbuilding yard after the Vihren and General Vladimir Zaimov. Captain Peter Sofiisky was in charge of the Belmeken with Chief engineer Kolcho Kolchev. Maria Nikolova - a medical officer at Transport hospital – Varna, godmother. The vessel was launched to her maiden voyage to the then Soviet Black sea port Ilichevsk to take cargo for the Baltic port Roshtok (part of the German Democratic Republic at the time). After Roshtok the Belmeken took a course to Murmansk where she charged cargo for the port of Burgas.
That vessel sailed in the fleet of Navibulgar till January 2007 when she was sold to an India shipowner who registered her under a Mongolia flag under the name Rila. The last crew of that vessel which arrived at Gadani beach Pakistan for scrap on 1 April 2007 was Bulgarian consisting of personnel of Navigation Maritime Bulgare: with Sevdalin Tsvetanov as Master and Chief Engineer - Andrei Sabev.