05.11.2014
Balgarka's godmother visits the ship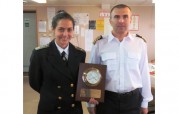 Lieutenant commander  Stanimira Florova, Godmother of  m/v Balgarka attended a meeting with the ship's crew organized by Navigation Maritime Bulgare during the loading of the vessel at Port Varna East Terminal. She was greeted aboard by the ship's Master Captain Nikolai Stanev. She received as a present an original Comfortmeter (temperature and humidity control device) on behalf of the Executive Director of Navibulgar Capt. Alexander Kalchev. Such devices are used in the ships, sister to Balgarka and are located in the captain's cabins. The Godmother in turn gave the crew a picture of her during the naming ceremony of the ship in October 2003 in Varna Shipyard. The meeting was held in the Officers' Messroom and was attended by Navibulgar's Technical Director, Daniel Harizanov, and the Technical Manager, Ivan Karchev.
Everybody at the meeting agreed with the fact that the Godmother has brought good fortune to the ship, the ship has brought her luck in return.
After breaking the bottle of champagne over the bow of the ship and giving her the name "Balgarka", Stanimira Andonova (her maiden name) graduated with honors the Naval Academy in Varna in 2004. Later, she decided to join the Navy at Burgas Naval base, where one year earlier her future husband had been allocated. Six out of her 10 years officers' service Lieutenant commander  Stanimira Florova has  spent on board of a ship, being the commander of the armour system of the frigate "Verni".  She is also the first woman in the Bulgarian Navy to have fired caliber 100 mm warship weapons.
As regards the ship, in the past 11 years m/v Balgarka has demonstrated very good performance and thanks to the professionalism of her crews deserves to be considered the flagship of the company's fleet.