15.05.2014
NEW VESSEL "MURGASH"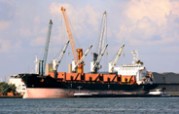 Not later than the end of May, 2014, NMB will become an owner of a modern bulk-carrier, named m/v Murgash. The vessel is in operation since year 2006 and was built in the Varna Shipbuilding yard (building No. 512) under the same project according to which m/v Balgarka (building No.510) was completed. Initially the vessel's name was Talon Ii, but she was consequently renamed to Furtrans Bulk, under which she sailed till March, 2011. The vessel was sold as a hull construction at a certain extent of completion and was subsequently finished at the Turkish Shipbuilding yard (Anadolu Shipyard Istanbul, building № 203).
Currently the vessel is operating with the name Wanderlust (IMO 9188908), registered under Liberian flag. The vessel is contemporarily equipped, classed with the Japanese register Nippon Kaiji Kyokai. Her LOA is 186.45 m, breadth 30 m, summer draught 11.5 m (Gross tonnage 25,312 tons, Summer DWT 41,675 tons), service speed 14 knots. Upon acquisition of m/v Murgash, the 42.000-tonne series of Navigation Maritime Bulgare will comprise 4 vessels.