01.07.2011
PORT TERMINAL BURGAS EAST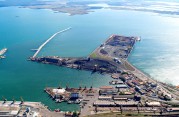 In June 2011 the Council of Ministers of Bulgaria awarded the 35 year concession for Port Terminal Burgas East to BMF Port Burgas EAD, established by "Navigation Maritime Bulgare" AD (NAVIBULGAR©) in 2011.
Port Terminal Burgas East is situated in the Gulf of Burgas at Bulgaria's Black Sea coast.
Covering an area of approximately 42 hectares and offering nearly 1.6 kilometers of combined deep-sea berths, Port Terminal Burgas East is one of the largest port terminals on the Black Sea, offering unique potential for cargo handling and storage. With a water depth of up to 15.50 meters, the Terminal is capable to receiving the world's largest vessels providing its client with excellent opportunities to capitalize on economies of scale.
Under the concession, Port terminal Burgas East shall be further developed into a modern and multifunctional deep-sea terminal, capable of handling and storing various types of cargo including general cargo, dry bulk, liquid bulk and containers.
Web site